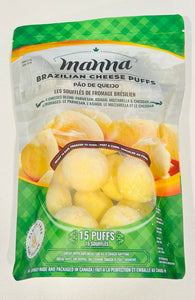 Manna Brazilian Cheese Puffs
Brazilian Cheese Puffs … Pão De Queijo!
Have you tried 'em?
Gluten-free and delicious! Made locally with real cheese!
1/2 hour in a preheated oven and you've got a delicious, authentically Brazilian treat. Serve it up with your favourite fruit spread … or plain!
An authentic, made in Ontario, Brazilian treat … serve it as a healthy snack or with your favourite coffee!
Provided by Manna